MIV
Meter Installation Verification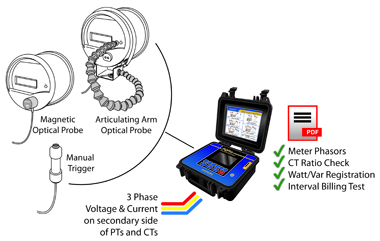 Introducing MIV (Meter Installation Verifcation) Application for the PQPro™. Quickly and conveniently verify transformer type metering installations to Measurement Canada specifications.The MIV application can be used in either Standalone Mode or Wireless Mode.
Standalone Mode:
In this mode, MIV tests are performed from the front panel of the PQPro™. All collected data are saved on a removable SD memory card, then open by the MIV software to generate PDF report.
Wireless Mode:
In this mode, MIV tests are performed from the MIV software. All collected data are transmitted in real time from the PQPro™ to a computer via Bluetooth connection. During the test, the MIV software can access more enhanced features in addition to Standalone mode.
Package include:
Magnetic Optical Probe - IR pulse sensor, magnetic latching for ANSI TYPE II optical port
Manual Trigger - for manual pulse count
MIV Pulse Counter Interface box - connect between the probe and the PQPro

™

①
Test Plugs for use with test switch current test jacks
MIV Software and Firmware
* Articulating Arm Optical Probe - with rubber tubing and mounting bracket
① PQPro

™

, voltage leads and CTs are sold separately.
* Optional
Software Features
Discover and connect to PQPro

™

in the proximity.
Select Service Type: Delta (2 Element), 2½ Element, Delta at the Block, 3 Element, 4Wire Delta, Network Service, 1 Element 2 Wire CT, 1 Element 3 Wire CT, 1 Element 2-2 Wire CTs, 1½ Element, and Candura's MBA 2S, 16S or 12S.
Select tests: Meter Phasors, CT Ratio Check, Watt/Var Regirstration, CT Burden Test, or Interval Billing Test.
Real time display of Meter Phasors, CT Ratio, and Watt/Var Registration.
Add Notes, Meter#, Technician name, etc. to report.
Add photos to report.
Preview and Save test result into PDF report. All reports can be branded with your own logo.