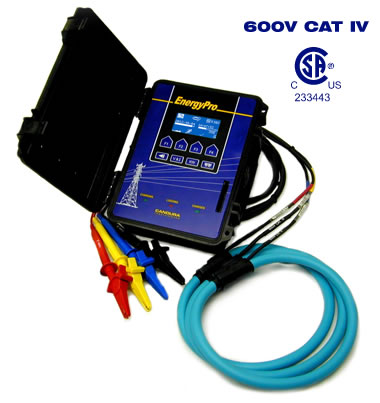 The EnergyPro EP600i is portable and easy to use. Perfect for single phase or three phase energy consumption analysis and basic power quality monitoring. It supports standard wiring configurations and comes with a set of 1A - 2500A WideRangeFlexCT™. The graphics display makes setup very easy and intuitive - you can setup and record data without looking at the manual!
Feel free to Contact Us for more information on pricing and EP600i applications.
Firmware Features
Min, Max and Average RMS data storage including voltage, current, power, and frequency.
Power Quality measurements including THD, harmonics and unbalance.
Connection Type: 1P2W, 1P3W, 3P3W, 3P4W, 2.5Element
kW,kVA, kVAR, kWHR, kW/HR
Displays total and average energy usage (kWHR and kW/HR) during the survey.
True Power Factor, kW divided by kVA.
Specifications
Current
CT1, CT2, CT3
Auto Ranging 1A - 2500A Flex CT
Accuracy
Voltage: 0.2% of reading + 0.2% of full scale
---
Clamp CT: 0.2% of reading + 0.2% full scale + CT accuracy*
---
Flex CT: 1-18A: ± (0.02A + 0.5% of reading + CT accuracy*),
18-180A: ± (0.2A + 0.5% of reading + CT accuracy*),
180-2500A: ± (2A + 0.5% of reading + CT accuracy*).
Sampling
32 samples/cycle
Storage
1 second to 30minutes
Power Supply
Internal from V1 (100V to 600V)
Battery Backup
24hrs run time. Data backup infinite
Memory
1G CompactFlash memory card
Operating Temperature
-20°C to 60°C
Size
(L)9.25" x (W)7.5" x (H)5"
*Non-ideal positioning can add an additional 1% of reading error.
■ Specifications subject to change without notice.
Comparison
Number of Voltage Channels
3
4
Number of Current Channels
3
4
Neutral Channel
Calculated
✓
Removable Memory Card
Max 1GB CF
Max 128GB SD
Voltage Transients
-
✓
(16 ms)
Multiple Survey Files
-
✓
Max RMS Store Rate
1 second
½ cycle (Current Inrush and Under/Over Voltage events)
Extended Continuous Waveform (XCW) storage firmware
-
✓
Wireless communication
-
Bluetooth (Optional)
Wi-Fi (Optional)
Screen Resolution
240x64
LCD Monochrome
480x270
LCD Colour