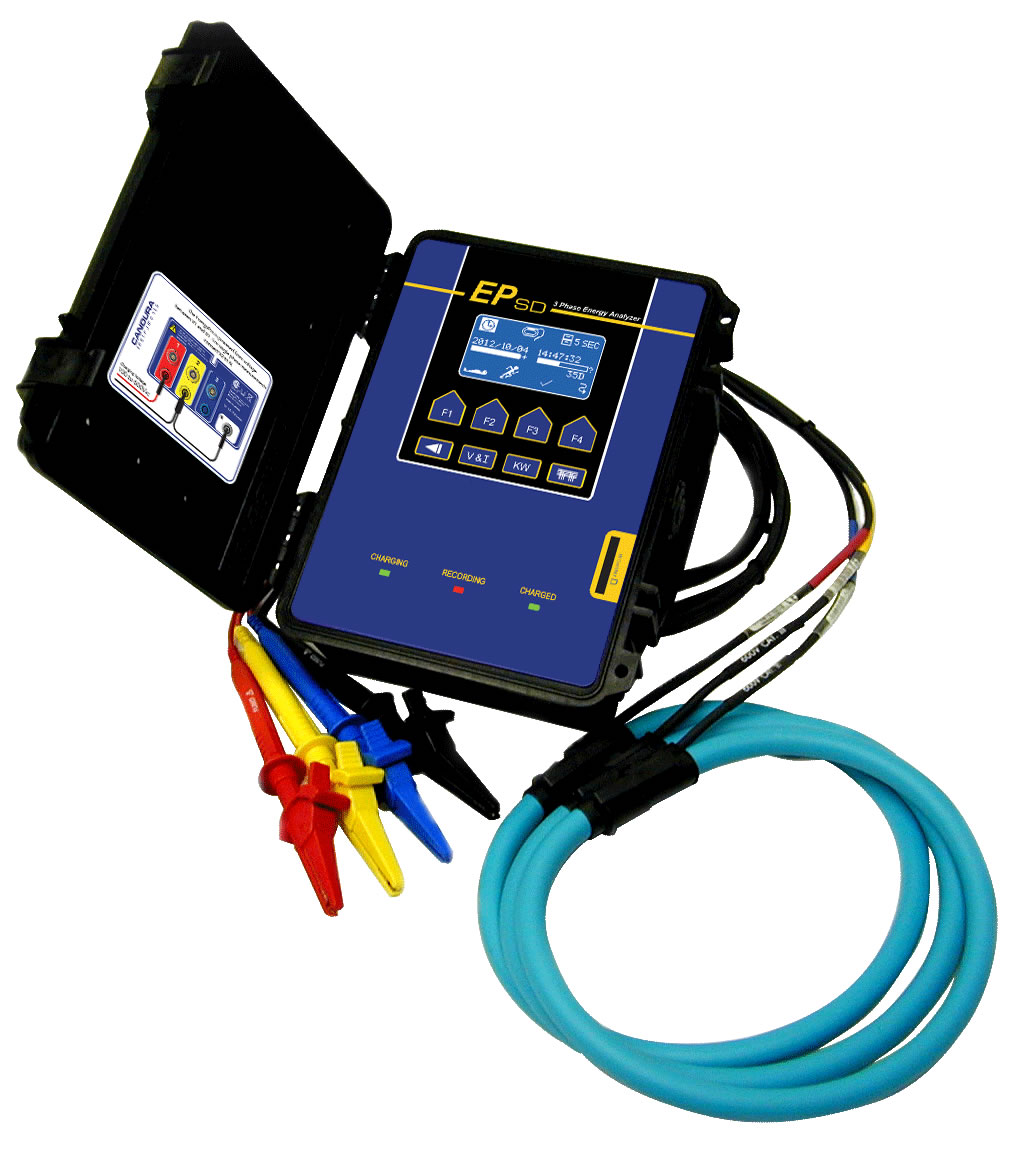 The EPSD™ is a 2nd generation design of the popular EnergyPro EP600i energy analyzer. It is a portable and easy to use instrument, perfect for single phase or three phase energy consumption analysis and basic power quality monitoring.
The EPSD™ supports standard wiring configurations and comes with a set of 1A - 2500A WideRangeFlexCT™. The graphics display makes setup very easy and intuitive - you can setup and record data without looking at the manual!
Feel free to Contact Us for more information on pricing and EPSD™ applications.
Preliminary - Available Q2 2022
Features
Min, Max and Average RMS data storage including voltage, current, power, and frequency.
Power Quality measurements including THD, harmonics and unbalance.
Connection Type: 1P2W, 1P3W, 3P3W, 3P4W, 2.5Element
kW,kVA, kVAR, kWHR, kW/HR
Displays total and average energy usage (kWHR and kW/HR) during the survey.
True Power Factor, kW divided by kVA.
Support 8GB to 32GB removable SD card.
Optional Bluetooth communication with PVA

™

Device App for Android

™

or PV II

™

Data Analysis Software. This enables remote status checking, control, and real time data display from a safe distance.
Option Cellular Modem for long-distance remote communications.
Specifications
Current
CT1, CT2, CT3
CT's are voltage output
Auto Ranging 1A - 2500A Flex CT or
Clamp CTs
Accuracy
Voltage: 0.2% of reading + 0.2% of full scale
---
Current (Clamp):
0.2% of reading + 0.2% of full scale +
CT error
---
Current (Flex):
@ 1-18A: 0.02A + 0.5% of reading
*
@18-180A: 0.2A + 0.5% of reading
*
@180-2500A: 2A + 0.5% of reading*
Sampling
128 samples/cycle
Storage
1 second to 30minutes
Power Supply
Internal from V1 (120V to 600V) or
External 12V AC/DC adapter
Battery Backup
72hrs run time. Data backup infinite
Memory
8GB - 32GB SD card
Communication
Bluetooth†
Cellular Modem†
Operating Temperature
-20°C to 60°C
Size
(L)9.25" x (W)7.5" x (H)5"
■ Specifications subject to change without notice.
* Non-ideal positioning of Flex CTs can add an additional 1% of reading error.
† Optional
Comparison
Number of Voltage Channels
3
4
Number of Current Channels
3
4
Neutral Channel
Calculated
✓
Removable Memory Card
Max 32GB SD
Max 128GB SD
Voltage Transients
-
✓
(16 ms)
Multiple Survey Files
✓
✓
Max RMS Store Rate
1 second
½ cycle (Current Inrush and Under/Over Voltage events)
Extended Continuous Waveform (XCW) storage firmware
-
✓
(Optional)
Wireless communication
Bluetooth (Optional)
Cellular Modem(Optional)
Bluetooth (Optional)
Wi-Fi (Optional)
Screen Resolution
240x64
LCD Monochrome
480x270
LCD Colour